Belay/Rescue Plate
Item Details
|
Reviews
(
1
)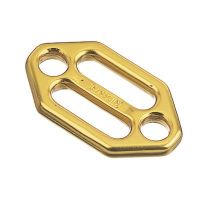 Manufacturer:
Cassin



This item may be available at:
Description
Take this belay plate along on your next alpine adventure to securely belay up the second (or seconds). The plate can be rigged so that it locks down in the event of tension from a secondís fall. The plate can be used for rappelling, and as an emergency ascender, but is not specifically designed for belaying the leader (use a Munter if you want to avoid carrying two devices).
-Aluminum.
-Tested to 27kN (pulling on the two biner holes).
-Use with two locking biners, one to attach and one for the rope bight.
1 Review
Review
Review by: tattooed_climber, 2004-04-19
cheap, easy to use, and it comes in handy......belaying, rapping, belaying second, a great back-up device...apearently you can make an ascender out of it, still haven't fingured out how..