Bugette Device
Item Details
|
Reviews
(
3
)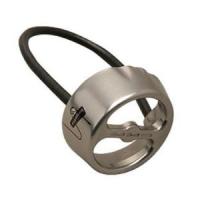 Manufacturer:
DMM



This item may be available at:
Description
When you're using a half or twin rope system on a dicey ice lead or a wandering trad pitch, a standard size belay device just wont cut it. Clip into the DMM Bugette and stay safe with a small device designed for small ropes. DMM designed the tube-style Bugette for 7.5 to 9mm ropes, and it features smooth walls to reduce kinking and make paying out slack a breeze.
3 Reviews
Review
Review by: davidji, 2006-04-21
The best tube-type belay device for skinny ropes. Amazingly light, and it locks up on thin (e.g. 8.4mm) ropes better than anything else I've used.

With double ropes, falls may be caught on only one strand. Big falls on one thin rope can be difficult to catch with a standard device. The ATC-XP is good for that. This is even better.
Review
Review by: warrior_prong, 2005-11-23
I love this device. It gives a much more assured rappel and means you can catch with noticeably less effort than say an ATC or Reverso (other devices I use). I liked it so much I bought another to give to partners as I feel som much more secure when belayed with it on my 8.5 lines.

Also when matched with a DMM Sentinel biner it knocks a lot of weight off the rack, enough for an extra cam in some cases (well, maybe a small cam!).

Recomendation - A strong BUY!

I would probably have given this a 5 if the rope surfaces were deeper giving longer wear characteristics. Although after nearly two years of moderate weekend warrioing it shows no real wear.
Review
Review by: dredsovrn, 2004-05-30
Well made and functional for double ropes (thin ones). It works smoothly and gives you confidence belaying or rapping on skinny cords. Gets pretty hot on rap since it is so small, so watch your hands.