Classic 8
Item Details
|
Reviews
(
3
)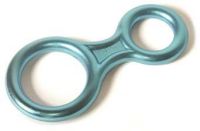 Manufacturer:
Faders



This item may be available at:
Description
The CLASSIC designed for secure and smooth operation. Weight: 145 grams 40Kn
3 Reviews
Rope Twisting Hell
Review by: BenHorton, 2008-09-22
8's twist your rope, which can be hell to deal with when you are on lead and your belayer can't feet the rope out because it's twisted into a knot. I learned on 8's, but have since moved on. There are better technologies now.
The Best piece of any rack
Review by: rockhopper5000, 2008-06-16
Fantastic device for belaying or rapping… This single device makes a smooth rapp quite easy to manage for any level. Also a great belay device compared to ATCs. friction Learn to use its many ways
very easy use classic 8
Review by: chndlr04, 2007-02-08
its very very easy to use this product, very good for rappelling, just insert the rope through the big hole and pull it over the small hole until it goes around the neck, and connect a carabinder to it, done. very easy to use.