Click-Up
Item Details
|
Reviews
(
1
)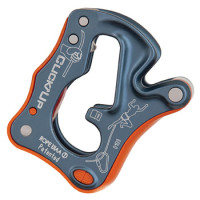 Description
The Click-Up Belay Device from Climbing Technology, so innovative and ingenious, marks a new era in the vast world of belay devices.The Click Up operates without the need to act on levers and moving parts.In the event of a climber fall, the rope is held by the HMS belay biner through camming action.Lowering is even easier: a slight pressure on Up Click and the rope runs at the speed you want In the event of excessive pressure or unintentional release, the device will lock.Must use an HMS carabiner in order to be auto-locking.
1 Review
Intuitive
Review by: drclimber, 2012-02-05
Very intuitive. My preferred device, even over the Cinch. The only con is the rope diameter range it handles.