Element Figure 8 Belay Device
Item Details
|
Reviews
(
4
)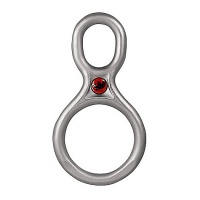 Manufacturer:
Mammut



This item may be available at:
Description
A standard figure-8 belay/rappel device.
4 Reviews
The Figure 8
Review by: MichaelCohen, 2009-03-17
Honestly, I feel almost as if the firgure eight is unnecessary. You can rappel with an ATC, something that the figure eight makes only a little easier. Plus, belaying with the figure eight is not so great.
Review
Review by: dr_fil_good, 2005-08-10
These were the first things I bought when getting into caving (my first rope sport). I liked 'em at the time but about a year later invested in a rap rack and it just leaves these things for dead.

I despise how they twist the rope and setting up a double fig of 8 config to untwist the rope is not only difficult to use but too bloody slow - especially over less than vertical terrain.

I've never used them as belay devices because I've always used my reverso.

My fig of eights sit in my bag in case of emegency only - and even still I'd use my gigi before I used the fig of eights!!!
Review
Review by: jorian_nl, 2005-03-02
Don't like it because of it offers not enough friction while rappeling. it good for toperope but the atc is way better.
Review
Review by: lucas_timmer, 2005-01-04
The same as al of the figure of eight's, made by Mammut.Has a breaking load of 25 KN.Not a belay device for starters because for the same price you can buy a ATC, also very heavy and twists the rope during use.