Figure 8
Item Details
|
Reviews
(
3
)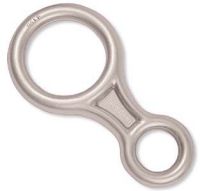 Manufacturer:
Trango



This item may be available at:
Description
It's a classic. It won't break your bank and it's still the most popular rappel device on the market. It's the Trango Figure 8.
3 Reviews
Figure 8
Review by: jammer, 2007-01-19
I agree that it is easy to use, but it is heavy and it twists your rope. This was the first rapelling device I owned and had used it as a belay device when I first started climbing. I owen two and continue to take it on multipitch trad climbs ... one never knows when your current belay device may dissapear!
Figure 8
Review by: paulbehee, 2007-01-18
I feel like the 8's throw too much twist compared to the ATC. It is slightly easier to rig up quickly,but i dont think its worth it.
Figure 8
Review by: ladybug1542, 2007-01-17
If you want a super smooth double line rappel that's easy to set up (unlike using an ATC) then go for the 8. When mine "walked away" I was forced to use my ATC and it just doesn't even compare.