Gigi Belay Device
Item Details
|
Reviews
(
8
)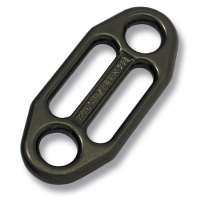 Manufacturer:
Kong



This item may be available at:
Description
KONG GIGI: Perfect for guides, the GiGi has an infinite number of applications. It can be used as both a belay device and emergency ascender. Excellent for crevasse rescue, for lowering heavy loads, or belaying two people at one time. The GiGi is the perfect choice for climbers or alpinists searching for rope management solutions. If you are planning on adding one piece of gear to your rack this year, the GiGi is your ticket.
8 Reviews

Write your own Review


Read all 8 reviews
Durable and dependable
Review by: infracanis, 2012-08-25
I've run miles of line through my GiGi and it is still as smooth as the day I got it. Much better for belaying a second than alternatives, and serves as my backup ATC. I've been belayed when leading, just use 2 krabs like the manual shows. For long rappels, I also use 2 carabiners to reduce friction. Excellent gear.
Review
Review by: sixleggedinsect, 2006-06-02
great belay device for the toolbox. i take the gigi when multipitching with ropes that aren't brand spankin' new (frictionless). i find the autoblock function much smoother (no sweating bullets just trying to work the rope through a reverso/b52) than the normal autoblock tubes devices. its worth the extra ounce or two. no more elbow tendinitis from belaying seconds! also a great device for two seconds at the same time. im not much of a fan for using it to belay leader or rappel, but whatever. i'd got other bits and pieces for that.
Review
Review by: matteo, 2006-01-27
I love my GIGI for multipitches too.
I'd add just a couple of things:
-if belaying with just one rope, I'd suggest to clip the rope's carabiner through the carabiner that is connecting the GIGI to the anchor. In this way, if the second falls down you'll be sure that rope's carabiner won't flip. This can happen exepcially on thin rope as darkside's review says.
-if rappeling down with thin rope just put 2 carabiner though the rope and you' ll slow down.
Review
Review by: dr_fil_good, 2005-08-29
great for belay from above ... it tad too fast on the rappel for me. This is my backup device in the case that I might drop my reverso (fingers crossed that never happens!!!)
Review
Review by: sgorman, 2005-02-20
i love my gigi. if i could find it, I would love it even more... my only qualm is that it doesn't get a whole lot of friction on repels...i.e. be careful if you've got a pack on, or even if you don't just don't go too fast. overall, it's a great little device and a lifesaver on blind belays and such.