Hewbolt Double
Item Details
|
Reviews
(
2
)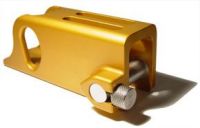 Manufacturer:
Hewbolt



This item may be available at:
Description
Dual rope capacity
Machined from 6061-T6 and 7075-T6 aluminum
Auto locking action
Ideal rappel device
Ergonomic design for easy operation
Smooth rope action and control
6.8 Ounces
2 Reviews
Review
Review by: mikec, 2006-01-25
I have owned a Hewbolt double for a year. I use it mainly for multi pitch and sport climbing. I also use it to set routes. Within first few months the device showed dramatic wear on the rub parts of the device including the screw in axel.

Feeding rope with the Hewbolt double is difficult with older thicker ropes. Thinner ropes are easier to feed but don't lock down as well. When compared to belay devices like the gri gri the Hewbolt is much more difficult to feed.

Using the Hewbolt on multi pitch is nice because you can have an auto locker that can be used under control as a rapel divice.

My main concern with the Hewbolt is that for as expensive as it is the thing should feed easy and last a long time.
Review
Review by: phaedrus, 2004-05-31
Even though PMI says "The TRE is the only rope brake for double ropes that locks under stress," that's not quite accurate. The Hewbolt Double is specifically designed as an autolocking double rope rappel/belay device. These devices are designed to be used with UIAA 10-11 mm dynamic ropes.

Similar to the Hewbolt Single, this device can be used to belay a leader and makes a GREAT autolocking belay device. Personally, rappelling gives me the willies, and this device takes the edge off of that for me. It can be used with a single rope to belay with, and it fits a double rope for rappelling. Since it's an autolocker, a prussic is not needed if you're using this, though if you want, you can still use one- it just makes rapping down really slow.

I own one of each, the single and the double- both are excellent additions to my bag of tricks! This can even be used by the newest beginner or the crustiest expert.

Like the Hewbolt Single, this can be used equally well by either a left or right-handed person, which is another selling point for me (I'm left-handed.)