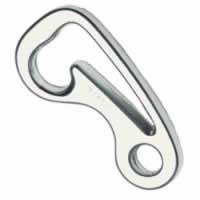 Manufacturer:
Cassin



This item may be available at:
Description
The Logic is a unique belay device that locks off in the event of a fall. Upward pull on the rope causes the free end of the rope to lock in the "V" shaped channel while being held by the belayer.
Weight: 90grams
1 Review
Review
Review by: mr-pink, 2005-05-06
I've never used it, but it's used alot for people who climb for the first time, like parties.
It's better than and 8 because it locks of, and the rope can't tip to the top in a locking knot.