Paradox Belay Device
Item Details
|
Reviews
(
6
)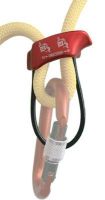 Manufacturer:
Mad Rock



This item may be available at:
Description
The world's got plenty of good belay devices; it fell to the Mad Scientists to make a better one. The Mad Rock Paradox features a forged and machined asymmetric aluminum tube-style body that regulates the rope friction depending on its orientation. Anodized for corrosion resistance and stylin' good looks and a rigid coated steel cable for safety and durability. Feeds quickly, yet locks off tightly - a Paradox we can understand. Assorted colors.
Note from Madrock: if you are a gym climbers using the oversized 11mm fatties and static ropes found in most gyms this device will not work at its best (stick to your Gri- Gri at the gym folks),this is made for by experience climbers using a single 9 to 10.5mm dynamic rope or alpine climbers using a 7-9mm dynamic rope. The device can be reversed to get less friction and avoid the some of the problems the earlier reviewer experienced. Mad Rock has re-release a Classic belay device the Max Air which works great for fat rope use and gyms. It will be included in our climbers packages instead of the paradox which is more of an experinced climbers tool.
6 Reviews

Write your own Review


Read all 6 reviews