Rescucender Ascender
Item Details
|
Reviews
(
2
)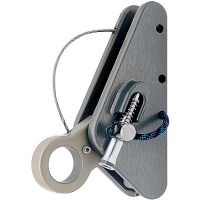 Manufacturer:
Petzl



This item may be available at:
Description
Petzl Rescucender Ascender Spring 2009 The Rescucender Ascender by Petzl is a rope clamp intended for moving on fixed ropes as a back-up belay, for hauling heavy loads, and as a progress capture device in hauling systems. Specifications: CE EN 567 For use with single ropes from 9 to 13 mm Weight: 250 g Features: Slides easily up the rope and jams when the cam is loaded Slides easily downwards if the cam is prevented from engaging If overloaded or subjected to an impact force, the rope may slip through the device Locking pin gives greater safety: disconnection from the rope requires two separate actions
2 Reviews
Review
Review by: dreneeps, 2004-02-19
This is a really nice ascender and I also love that it is so nice to your rope. It's beefy and worth spending a little more than you would with some other ascenders. The only thing I didn't like was that it didn't have a handle and I wouldn't rely on it for ascending yourself up the rope. I actually purchased it to do some top-roped soloing. It isn't made for soloing and I do not encourage the use of any climbing product for activities that it wasn't designed for...but...if like me you heard about a few devices you might be able to use for soloing at your own risk and you have decided your going to do it no matter what...I would consider using this. It is nearly impossible to come undone and detach from the rope on it's own, it's easy one the rope, it catches reliably as soon as you put weight on it, and perhaps even to use as backup for a primary soloing device?...I think it would be great and I have used it dozens of times with another ascender as a backup. You also have no way to release it with wieght on and so overhangs won't work well with it. Great product, buy it just as a gear ascender and just in case a situation comes up where you need to have something that does more!
Review
Review by: philbox, 2003-04-29
This rope grab is the best and kindest of all the rope grabs. It is designed to grab the rope without teeth. It is also able to provide slippage under extreme shockloading. From memory I think it slips at around 700 kgs. This is highly beneficial and it does not strip the sheath of the rope in doing its job. For anyone wishing to set up haul systems this is the only type of gear to use for that job particularly so if you are going to setup 5 to 1`s or greter mechanical advantage systems. Top notch piece of gear.

...Phil...