Reversino
Item Details
|
Reviews
(
3
)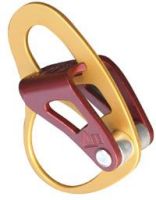 Manufacturer:
Petzl



This item may be available at:
Description
This down-sized version of the popular and versatile REVERSO (for ropes 8mm and above) is specifically designed to give you more control and braking power on today's smaller diameter ropes. It is one of the latest in belay/rappel devices and has multiple functions like no other - great for the average climber and guide alike. Belay two ropes in regular mode off your harness or attach your REVERSINO to the anchor (at the top of the pitch) and utilize the "auto locking" mode for belaying up your partner. Use with locking biner with UIAA Twin and Half Bopes with a diameter of 7.5-8.2 mm.
3 Reviews
Review
Review by: dennyg, 2006-07-09
I like I like
they say it doesn't wear like the larger...but, the verdict is still out on that one.
good ps. lightweight...works well
Review
Review by: ab, 2006-05-01
It doesn't have enough friction for rappelling with my 7.7mm Beal Ice Twin ropes, unless I use two carabiners. (The same is true of the Hugh Banner Air Marshall.) I weigh about 180 lbs.
Review
Review by: keithlester, 2004-07-14
Anybody who uses half ropes will eventually go to the new skinny ropes as their old ropes get retired. I recently bought a 8mm Mammut and got the Reversino at the same time. All the advantages of the reverso pertain to this beauty too. Its the right tool for the job, and untill all the other belay devices come out in miniature form, this one will almost certainly lead the field. Its handling is superb, it doesn't take long to learn the tricks you can use it for, but used as a conventional belay device, its completely intuitive, so anybody can pick one up and use it straight off.