Reverso 3
popular
Item Details
|
Reviews
(
7
)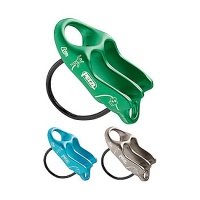 Manufacturer:
Petzl



This item may be available at:
Description
This multi-purpose belay/rappel device is lightweight and easy to use. The asymmetric V-shaped grooved friction channels regulate the amount of braking friction on the rope according to its diameter and condition.
Ultra-light design:

minimalist construction
hot-forged aluminum
72 g

A single device for all rope types:

effective braking on half and twin ropes = 7,5 mm
effective braking on single ropes = 8,9 mm
can belay the leader, one or two seconding climbers and can be used for rappelling
independent and simultaneous belaying of one or two seconding climbers in Reverso mode
quick change-overs from Reverso mode to belaying the leader when climbing multi-pitch routes

V-shaped friction channels:

increased friction on thin ropes
friction is adapted for larger diameter ropes
increased holding power in Reverso mode

Asymmetrically grooved sidewalls:

increased braking power during a leader or top rope fall or while rappelling
rope smoothly slides through device when taking up slack

Carabiner hole to release device when loaded in Reverso mode: allows the loaded device in Reverso mode to be easily and gradually released with only a carabiner
Rope friendly:

will not kink the ropes regardless of the mode used
separates the two strands of rope when belaying and rappelling

Intuitive:

Reverso mode attachment point is easy to identify
keeper cable keeps the device from moving up the rope when belaying and reduces chances of losing the device
usage diagrams (standard belay and Reverso modes) engraved on device.
Technical specifications
For use on single ropes (= 8,9 mm), half and twin ropes (= 7,5 mm)
Weight: 72 g
Hot forged aluminum body
Available in 3 colors:
- green, D17 G
- blue, D17 B
- titanium, D17 T
3-year guarantee
7 Reviews

Write your own Review


Read all 7 reviews