SMC/Russ Anderson Figure 8
Item Details
|
Reviews
(
1
)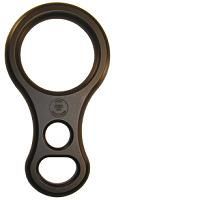 Description
The lightest of our line of rescue descenders, this is a traditional figure 8 design without ''ears.'' Machined from solid aluminum bar, this descender is hard-coat anodized to provide maximum abrasion resistance and therefore ideally suited for heavier duty or repetitive rappelling situations. The Figure 8 will accept a variety of rope sizes from 8 mm to 12 mm, either single or double. The extra hole allows you to be clipped in while rigging a rappel, a definite plus when working with icy ropes or when wearing heavy mittens.
Weight: 5.3 oz (150g)
Dimensions: 6'' x 3.4'' x 0.5''
Strength: 7,194 lbf - 32kN (3 Sigma)
1 Review
SMC/Russ Anderson Figure 8
Review by: jlcatala, 2011-12-31
We bought 8 SMC/Russ Anderson Figure 8. They were put into service in October 2011. 4 have deteriorated showing tiny cutting edges.- Is this a manufacturing defect?