Ushba Basic Ascender
Item Details
|
Reviews
(
3
)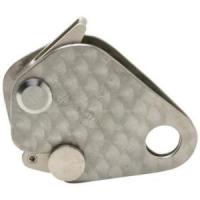 Description
Precision machined, titanium construction. When unweighted, it moves easily up and down the rope. Solo top-roping. This device performs on UIAA standard ropes from 8mm to 12 mm. Arrests fall by pinching the rope with camming mechanism. Does not use teeth. Backup knots are recommended. Not for solo-leading! Weight: 124 g
3 Reviews
used it quite a bit for solo...
Review by: rurpflirt, 2011-06-30
Bought it to replace a micrograb. supposedly a little stronger, too. I just leave about 10 feet of rope coiled in a bag hanging off the end of my rope to keep enough tension for the ushba to move up.

twanders- I think arnokhos said "it" fell, not him. haha. Butter fingers?
Solo Top Roping
Review by: twanders, 2009-09-01
This device rules.

How on earth do you take a 40ft fall on an Ushba?
That doesn't make any sense.


Great device if you know a specific use for it
Review by: anarkhos, 2008-08-12
I used the aluminum version of this ascender for two years. Last week it fell 40ft and thus I had to retire it. The titanium model may be more durable; I don't know.

I think this is an excellent item if you have a specific use for it. The main advantage of this piece is it puts practically zero wear on the rope. It has no teeth, and it feeds with very low friction. The main disadvantage is it makes a poor ascender for frogging due to how the rope feeds (it creates too much slack so it's inefficient for that purpose). Also, at least for the AL version, even though the manufacturer has instructions for solo-TR (which I used it almost exclusively for), it didn't catch well unless it was kept upright with a bungee.

Releasing under light tension is also possible by twisting the ascender. This isn't possible with toothed ascenders.

The AL version is also a tad heavy.

I think this would make an excellent haul ascender, too. If you don't like rope wear, check it out!