VC Pro Belay Synergy Biner
Item Details
|
Reviews
(
2
)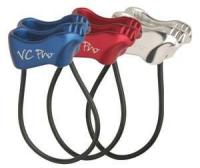 Description
An evolution from the classic best selling VC, the new VC Pro with its 'V' grooves to give belaying a 'bite' and simple organic shape, make this a modern, lightweight device that is truly confidence inspiring. The VC Pros design is based on the principles so effectively demonstrated by the success of the original VC, that any all-around device needs to do the three essentials well: paying out quickly, holding falls securely and abseiling safely. The VC Pro takes this one step further by doing this brilliantly across a wider more modern range of rope sizes, from 8mm to 10.5mm.
2 Reviews
Feeds like glue and brakes like teflon, engineered to bring you the worst.
Review by: hotgemini, 2007-08-11
Got handed one of these to test by the gear store I work in to access whether we'd carry it as a stock line. Tried it out over a period of three weeks of reasonably solid climbing including one day of 600+ metres, used it on single ropes at 10, 10.2, 10.4 and 10.5 and halves at 8.4 and 9.0mm. By eye it very much resembles an ATC-XP in design, traditional tube but with jaws added for a higher friction mode. Nothing very revolutionary so how hard can it be to make it work? Well I'm afraid that whist I'm usually a rabid Wild Country fan they seemed to have dropped the ball on this one. The slots in the device were too short, meaning that it routinely locks up when you try to feed rope and was annoyingly high in friction (even in low friction mode) when abseiling on two strands of a 10.2mm+ single rope (reasonably new ropes, not fuzzy or anything mitigating there).

Conversely and this is what really surprised me, on the day of 600m of climbing we were trying to knock off every pitch on a particular wall of a mountain in one day, so we were doing some funky things of fixed ropes from belays that we would visit multiple times. When rapping on the single strand of 8.4mm half rope, the device which had so consistently yielded frustratingly high friction in every other situation could only just muster adequate friction to abseil (in high friction mode with the added resistance of a prussic below the device as a back-up).

Needs a serious rethink and redesign. Oh, btw, the shop decided not to stock them.
Many top features!
Review by: martinheynert, 2007-07-22
Has more friction than ATC Guide or Reverso (sharper "fishbones"). Good shape, no sharp edges, rope runs good. Lightweight. Good craftmanship. For smooth rappel, better turn it around and have the side withOUT the teethes downwards.

Only con, for whom it may concern: No "Guide mode" for self-blocking belay of the following climber.