Variable Controller
Item Details
|
Reviews
(
15
)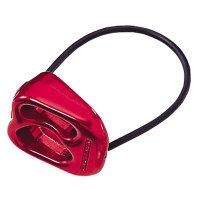 Description
The Variable Controler is forged from HE30 Aluminum with enough material to dissipate heat, yet remain light in weight.
15 Reviews

Write your own Review


Read all 15 reviews
ideal for gym
Review by: StuMsg, 2011-01-13
Owned it for 4 months now. Jittery when lowering a light person on fat, frayed ropes (gym ropes). Works great when lowering people that aren't too light.
Belaying a lead on my shiny new 10.2mm rope is no problem - no feeding required because of the nice and smooth belay finish .
not the best belay plate but I always carry it when climbing - its very light.
Great for the price.
Ideal for the gym.
belay device
Review by: ddooddodo, 2010-10-16
Very good for top rope and ok for lead. I don't really know why it got such low ratings.
A better device than most of these reviews make out
Review by: dhinder, 2007-02-20
I have used this device for about 10 months. Whilst I did not climb very frequently during that time, I would have used it on at least 9 trips. Enough time to form an accurate impression of it. I've abseiled on double ropes, wet single ropes in a canyon, used it to belay leaders on sport & trad routes, and used it to bring up seconds.

When belaying leaders I would feed the rope so that the brake side corresponded to the thicker side of the device. Using it, I held a lead fall that was large enough to jerk me off my feet and bang me against the cliff.

The device does get hot on abseils. So does any other device out there, I'm not sure why people are cradling it in their hands after a big abseil... Point is, after a 50m rap you're not going to want to touch any device for very long, so I don't think it's a big issue.

Someone mentioned that feeding thicker ropes through the grooves is hard. When trying to rap on 10.5mm rope (the rope belongs to a club, so it sees a fair bit of use), you do have to grasp the bights of rope firmly to push them through the grooves. Not a major issue for me.

I think it would take a lot of wear and tear before this device began to develop dangerous rope-cutting edges.

I never had anyone complain about jerky lowerings, though I certainly apologised for them. Whether the jerky lowering is the device's fault, or due to my imperfect technique, I don't know. When beginning abseils I did find that the ride was slightly jerky, but would get smoother near the end of the abseil.

For my money, it's a good device to give to inexperienced climbers: it's extremely simple, and has no confusing extra holes like the attachment points on the Reverso and ATC Guide. It gives you low-friction and high-friction modes, which is more than a vanilla ATC does. The device is perfectly safe. While I have recently purchased a Reverso (anticipate doing more leading with less experienced people), I am definitely hanging onto my Variable Controller.
Review
Review by: thulani, 2006-07-28
I used this device the first time I ever belayed lead. Freaked me out man. The thing feels unstable as its surfaces are so small and there's no grooves to guide the rope at all. When I was belaying I was so focused on looking up at my climber that I didn't notice that the rope had slipped sideways on the device. Tricky to explain without a picture. All I know is I now have an atc-xp and I think its much better. I feel much more secure with the xp than I did with this thing. And for me that counts for a lot. This is really just a cheap and nasty for the beginner who doesn't know what they want. BTW it was someone elses I didn't actually put out the money on it. Also never rappelled/abseiled with the thing but really wouldn't want to. Been climbing less than 3 months so not the authority but I've only seen one person use this device its just not popular with anyone it seems.
Review
Review by: stlmopar, 2006-03-22
If you are a gym climber doing mostly toprope this producte is great real smooth, but rapelling outdoors with this sucks. Like others said it gets real hot. So if rappelling spend a little more and get a BD ATC-XP if you gym climb best dang for your buck.