Big Boa HMS I Beam Keylock Carabiner
Item Details
|
Reviews
(
2
)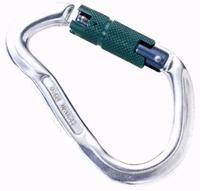 Manufacturer:
DMM



This item may be available at:
Description
The DMM Big Boa HMS I Beam Keylock Carabiner is a big, bad belay biner for when you need a combination of low weight, high strength, and huge capacity. The I Beam construction gives the Big Boa one of the highest strength ratings out there, and its keylock nose eliminates rope snags.
2 Reviews
boa
Review by: richardvg03, 2007-05-22
This actually just happened to be the autolocker i grabbed the first time I shopped and it also happens to be one kick as biner! Expensive yes but well worth it!
Review
Review by: sarcat, 2004-05-17
For autolockers I only buy the DMM. I like the action and the thick steel gate. I've 6 of these on my rescue rack because they meet the NFPA standard of 28kn.