Jake Jr. Quik-Lok
Item Details
|
Reviews
(
0
)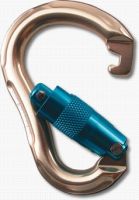 Description
For those that love the Jake but want all it has to offer in a smaller package, the Jake Jr. is just the ticket.
Available in Quik-Lok or Screw-Lok configurations, the Junior is about 10% lighter and smaller than its larger counterpart. Itís perfect for alpinists and backcountry climbers for whom trimming grams is an obsession.
Familiar to fans of the Jake Sr. are the strong, reliable shape (perfect for Muenter hitches), side-swing locking gates (for extra gate clearance) and Omegaís trademark features like Flat-Spin Riveting, Proof-Load testing, Tapered Nose, and ISO Cold Forging.
Weight: 97g (3.34oz)
Major Axis: 24kN
Minor Axis: 10kN
Open Gate: 9kN
Gate Opening: 20mm (.787 in)
Length: 104.1mm (4.1 in)
Width: 72.6mm (2.86 in)