Rocklock Twistlock
Item Details
|
Reviews
(
4
)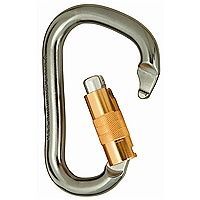 Description
Black Diamond's largest locking biner, the Twistlock Rocklock Carabiner makes an excellent choice when using two ropes, wearing gloves or using a variety of belaying techniques. Features: * A slightly curved spine maximizes the gate opening * A square hinge end holds your belay loop securely in place * Twistlock opening is easy to operate with one hand Specifications: * Weight: 89 grams * Type: Locking * Closed strength: 24 kN * Open strength: 8 kN * Locking: Twistlock
4 Reviews
Review
Review by: angrymarmot, 2007-03-13
Solid, simple and easy. Keyed gate and easy open with a single hand. No complaints. I'd buy it again.
Super strong, little pricey
Review by: jgailor, 2007-03-08
Great piece of metal. I use them pretty much exclusively for my locking biner needs (I like consistency). Great for anchors & as a piece in the belay chain. 0 complains except they're a little pricey, but they feel so damn solid you don't feel bad after buying it.
Review
Review by: talnlnky, 2006-08-17
Nice piece, big, lil more spendy than other comparable biners
Review
Review by: sky7high, 2006-07-18
great biner, useful for nearly everything. Love the keylock noses that don't snag on stuff. this biner is easily opened with one hand. perhaps the only problem is that it's bulky. a bit pricey as well. A more exact rating would be 4.5