Classic HMS Screwlock Carabiner
Item Details
|
Reviews
(
2
)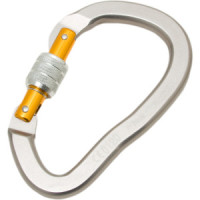 Manufacturer:
Trango



This item may be available at:
Description
Trango Classic HMS Carabiner Spring 2009 The Classic HMS Carabinerby Trangostarts with the great utilitarian shape of our Widebody design and mates it to the Classics styling and economy. Use it on your harness, attach your Jaws with it or use it for an emergency Munter Hitch. Fully anodized, Gate Lock design.Features: Gate Open: 7kNIndividually TestedMajor Axis: 24kNMinor Axis: 8kNWeight: 83gmGM: 57Major: 24Strength Minor: 8Cross: 7
2 Reviews
Review
Review by: z_rock90, 2006-03-14
This biner has a very smooth action, but It has a little trouble with a grigri.
Review
Review by: lextalion, 2006-01-01
These are my favorite locking biners. they are a bit larger than some and the screw lock work very smoothly.

I own almost a dozen of these now. It is my main stay for all of my rigging for long trad routes.