Classic Screwlock Carabiner
Item Details
|
Reviews
(
3
)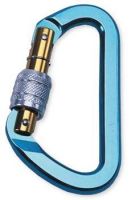 Manufacturer:
Trango



This item may be available at:
Description
Trango Classic Screwlock Carabiner Spring 2009 The Classic Screwlock Carabinerby TrangoTakes the Classic Straight Gate Carabiner and add a screwlock collar on it. So no more excuses Take em along on your shoulder runners, rig a couple of draws with these for first bolts and loan em to your friends. Anodized bodies and Gate-Lock design.Features: Gate Open: 7kN Individually Tested Major Axis: 24kN Minor Axis: 8kN Weight: 57gmGM: 57Major: 24Strength Minor: 8Cross: 7
3 Reviews
Review
Review by: nmoroder, 2005-04-09
The screw is too big and the gate opening suffers, but I never cared too much about gate openings. The feel of these is perfect. Not the strongest... BUT, this is a great biner. I have 6 and am very happy with them.
Review
Review by: gunksgoer, 2004-12-14
I call this the SEXY BINER. Mine is anodized purple with a gold gate. I got it for free, so the price was right, and its just as good as other locking d's. Oh, and did i mention its dead sexy?
Review
Review by: tgreene, 2004-09-08
I love the Trango Classic series, and have a set of 6 of these screwgates! More often than not these days, everyone seems to be utilizing the oversized pears, but there are clearly times when smaller and lighter is better, when encountering smaller anchor chains and/or preloaded bolts, which only allow for a small biner to be used.