Element Belay Key Lock Carabiner
Item Details
|
Reviews
(
3
)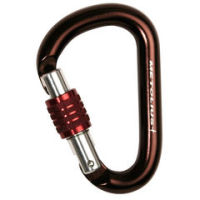 Manufacturer:
Metolius



This item may be available at:
Description
A workhorse belay biner, the Metolius Element Belay Key Lock Carabiner is the ideal partner for the BRD, Munter hitch or other Metolius belay devices. A compact, pear-shaped design facilitates belaying single ropes with a Munter hitch, and is enhanced with a snag-free Keylock gate system. Lightweight and smooth to handle, the Element Key Lock simply makes belaying easier.
3 Reviews
biner
Review by: 625jaken, 2011-05-29
Works great
Faulty Sleeve
Review by: spoon, 2010-09-29
The gym where I work uses these exclusively. There is an internal stop that prevents the sleeve from moving any farther once it has made it to the locked position. After repeated use, the stop fails and the sleeve continues to screw upwards. After a while it will go far enough to expose the threads on the gate, allowing ing them to be damaged. If you keep using it, the stop becomes worn enough that you can screw the sleeve off the carabiner entirely. Metolius replaced our carabiners when this happened. The second batch failed exactly the same way.
why so many turns?
Review by: mjwestla, 2010-01-25
I like many things about this carabiner - it's got a nice round feel, has the keylock gate, is compact and lightweight. However, this thing literally requires twice the number of turns (8 full turns) to lock and unlock as any other carabiner I own which drives me crazy when I'm using it.