Fat Boy HMS Screwgate
Item Details
|
Reviews
(
4
)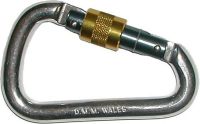 Manufacturer:
DMM



This item may be available at:
Description
Super functional shape, perfect all around size and a fat rope friendly rod stock make the Fat Boy HMS a great choice for all your belaying needs.
- Functional belay 'biner
- Can be used with any belay device
- Fat rod stock is easy on rope
Strength Gate Closed: 25 kN - Strength Gate Open: 7 kN - Strength Minor Axis: 8 kN - Weight: 90 g - Gate Opening: 17 mm
4 Reviews
yep
Review by: SeeLee, 2007-08-13
I use this biner for outdoor sport and gym belaying and rappeling. Good price and exellent construction
Review
Review by: metal_head, 2005-02-24
this is a great Carabiner for belaying and repeling its duribal and takes a lot of wear, and i like the colors!

(BUT i got mine for only 12$)
Review
Review by: estwing, 2004-08-20
I like it alot as well, I have found it to be quite durable. My only complaint is that it is slightly asymetrical, therefore the wear is concentrated all on the same point.
Review
Review by: tattooed_climber, 2004-04-16
a great pear-biner for munter hitches or belay devices