Five-O Screwlock
Item Details
|
Reviews
(
2
)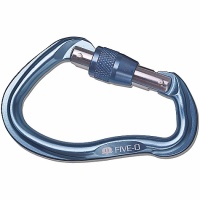 Description
Five generations of development have perfected this carabiner. Huge gate clearances with deep baskets provide effortless clipping. Available in straight, bent, wire and locking gates for virtually any use. Built from aircraft-quality aluminum and our exclusive ISO Cold Forged process, the Five-O is the premier free-climbing carabiner. Perfect for alpine, ice, and sport climbing, the Five-O boasts up to 32mm of gate clearance.
2 Reviews
Review
Review by: andrewj, 2005-09-26
A nice locker, pretty big compared to my Quicksilver locker. It's nice for stuffing a bunch of webbing and cord into at anchor points, etc.
Review
Review by: lextalion, 2005-09-09
It is a good locker however I don't care for it personally due to the fact that it is so small in comparison to other Lockers that I have.