HMS Mini Screwlock Carabiner
Item Details
|
Reviews
(
1
)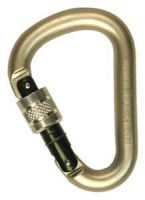 Manufacturer:
Trango



This item may be available at:
Description
Trango HMS Mini Screwlock Carabiner Spring 2009 We like to use the HMS Mini Screwlock by Trango as a belay biner because its compact design keeps the whole rig closer to your body and is lighter than a standard HMS carabiner. Features: Gate Open: 7kN Individually tested Major axis: 22 kN Minor axis: 9 kN Weight: 79 grams
1 Review
Poor man's attache?
Review by: hotgemini, 2007-08-11
Have a load of these used as belay 'biners for a climbing club. Cheap, small, cheap, well-made, cheap, nice to use and cheap! For personal use you'd buy an attache` or BD minipearabiner every time for the keylock nose, but for the dollars these are a good nice to use mini belay biner.