I Beam Boa Locksafe Autolocking Carabiner
Item Details
|
Reviews
(
4
)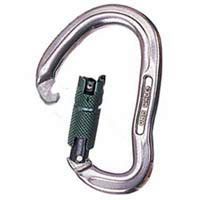 Manufacturer:
DMM



This item may be available at:
Description
The Boa Locksafe automatically locks its gate via a dual spring action (fast opening will take some practice). The danger of forgetting to lock your carabiner is eliminated. The pear shape creates a huge internal volume, so it will take multiple clove hitches and a Munter hitch on a fat rope with no problem. The S-shape back mitigates the tendency of pear carabiners to cross-load if they shift.
4 Reviews
DMM Boa
Review by: irie_mon, 2008-12-04
I like auto lockers, and I like the action on the DMM Boa. However the top of the twist lock creates a big edge, and my 10.5 rope slides around the inside of the biner and gets stuck on that edge. Occasionally, I look down and the biner is cross loaded. I don't really have to look down to know when it's cross loaded because I can feel the rope running roughly and sawing on that edge as a feed out or take in rope. To remedy the cross loading, I slap the biner.

The Boa is a strong biner and can withstand 12 kN while cross loaded, but I would rather be in the 28 kN orientation. As a result, I cannot recommend this biner. I'm looking for a replacement for mine. I might have to switch to a screw lock model to avoid a biner with a rope trapping edge created by the top of the twist lock.
Review
Review by: camerona91, 2006-11-05
With auto-lockers you either love or hate them... The auto-lock can be a bit hard to manipulate the first few tries but it quickly becomes easy and thoughtless. The two step method for opening ensures it doesn't accidentaly come undone. It hasn't gotten stick yet at all. The internal circumference is huge-great for when you have a ton of ropes stuck in there for short-roping or glacier travel. Maybe a bit heavy for alpine climbing. It is huge and bomber though. A keyless nose would make it better, but I'm not sure I've seen an auto-lock with one yet.
Review
Review by: ja1484, 2006-08-13
Excellent biner, my go-to biner for belays and rappels. Just a note: The specs listed here are outdated. The current generation Big Boa has a closed gate strength of 28kN, open gate 10kN, and cross load 12kN.

Awesome biner.
Review
Review by: 615_ninja, 2006-03-06
After persuading my wife to take the plunge into climbing and her love for it that inevitably comes next, it was time to get her geared up. Safety and ease were the major factors when it came to buying.
The DMM Boa delivered on this front as well as providing an exceptional value.
We arrived at the climbing shop with the intent of picking up the OP Jake because it was autolocking and had a wide gate opening. What we didn't like was the way the autolock could be unlocked and opened quite easily by accident. This is where the Boa impressed. First of all, the gate opening is just as wide as the Jake save 2-3mm. However, what really won us over was the two-action autolock mechanism. It is both fast and extremely safe. To open it, you first push up and then twist. After a day of doing it, I was able to open it as fast as any other carabiner.
The shape us perfect for belaying. The ease makes useful for many other applications. I've used it to set anchors as well as for fast clip-ins at the top of a climb.
It has become my favorite locker.