Keylock Mini Pearabiner
Item Details
|
Reviews
(
2
)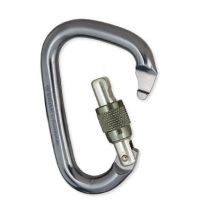 Description
A slim profile and lightweight material make this Mini Pearabiner easy to operate while rappeling or belaying. Use the Locking Mini Pearabiner with your belay device or Munter hitch for extra security. Features:
Keylock nose doesn't snag on slings or harnesses
Low profile and light weight make it versatile
Sleeve locks on gate and won't freeze up when loaded
Weight: 68 grams
Strength major axis open: 7 kilonewtons
Strength major axis closed: 24 kilonewtons
Gate open clearance: 20 millimeters
2 Reviews
Review
Review by: 09kams, 2008-09-25
I bought one of these beaners for various uses, anchors, belaying, rappelling, attaching my camera to my pack. and they have performed very well. although, after a lot of use the screw lock tends to stick, but still a good beaner nonetheless.
Awesome
Review by: krosbakken, 2007-02-26
Small, lightweight, doesn't snag on gear because of keylock and i have two of them and i use them for belaying, and anyother use.