Klettersteig Screwgate Carabiner - Steel
Item Details
|
Reviews
(
2
)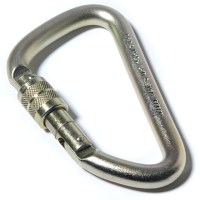 Manufacturer:
DMM



This item may be available at:
Description
The DMM Klettersteig locking steel carabiner is an excellent choice for heavy-duty applications where strength and durability are paramount. Made from a zinc-coated steel that offers serious strength and corrosion resistance. Screwgate design secures easily while large D-shape helps keep ropes aligned along major axis for maximum strength. Screwgate locking mechanism has a low, snag-resistant profile.
2 Reviews
Heavy monsters for bomber anchors
Review by: sevs, 2010-02-21
I bought these only cause they went on clearance at REI and I needed some biners for anchors. These are really heavy compared to the other screwgate lockers I have but they seem absolutely bomb proof for any anchor type application. They are also huge so no reservations about gate opening wide enough or being able to place thick rope through them. I showed one of my 'ultra lite freak' friends and he laughed at them and said we can use them to set up a top rope to attach to his wench on his land rover to pull it up the face.
Review
Review by: sarcat, 2004-05-17
DMM being my favorite brand when I needed some steel biners for 40+kn rating I looked for what DMM makes. They have a wide variety of sizes and gate options in steel. This biner is VERY heavy and not for general mountaineering use. More than 2 and you'll need a pac-mule to get them anywhere.