Locking Oval
Item Details
|
Reviews
(
5
)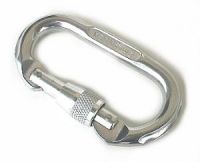 Description
Oval carabiners are a real technological challenge. Because of its shape, the load is shared equally between the spine and gate sides of the carabiner, which typically results in lower strength ratings.However, with our exclusive ISO Cold Forging process, we are able to compensate by shifting material and putting aluminum where it needs to be to reinforce the frame. Compare for yourself and youll see that we have one of the strongest oval carabiners on the market. At 22kN, its 4kN higher than other ovals, which means that our oval is an oval you can rely on for everyday, all-around use.
5 Reviews
Review
Review by: tnwagener, 2006-02-24
I love these, I have three and they do everything from Belays to anchors and do it well. Never had the screw lock up. Price is great to.
Review
Review by: slcbongmaster, 2005-09-11
Cheap and stronger than any test you are going to put them through.
Review
Review by: ontario_guide, 2004-09-07
At first I thought "hmm... a locking oval. Why?" I still think that but they work out ok. It's fairly cheap for a locking 'biner but because it's an oval there isn't a whole lot of room in this 'biner.
Review
Review by: yay_chris, 2004-07-17
Locking biners should not cost a lot of money. I bought the Omega Pacific Locking Oval mostly because of its price, and, in the end, it was one of my better climbing investments. I have other, more expensive locking biners, but I always come back to these OP biners for anchors and belaying.
Review
Review by: tyify, 2004-07-06
A very cheap locking carabiner. Great for setting up anchors as it is oval and locking. The actions are all smooth on the gate and the screw lock. For setting up great anchors these are awfully handy.