Oxygen Keylock Screwgate Carabiner
Item Details
|
Reviews
(
1
)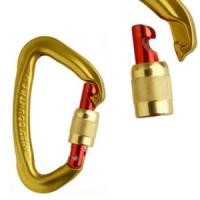 Description
A great example of how the difficult problems can be solved simply, our method of making a no-hook screwgate cleverly adds a pip of metal to the exisiting biner to create the solution.Although the Oxygen biner itself had been around a while, the screwgate version was a while in coming because we couldnt work out how to add a screwgate to the and still keep the very important Clean-nose factor. However, once we did with the pip we realised that this would be a great addition to the range.What makes the Oxygen Clean-lock screwgate such a brilliant allrounder is that it has a great advantage when setting or dismantling belays that it will not catch on ropes or slings. Other than the Screwgate the Oxygen has the same great features as the original with its hot forged body and high braking strain giving a strength and re-assurance thats hard to beat.
1 Review
Light, strong, pretty, but...
Review by: tigerlilly, 2008-04-14
Not quite as snag-free as a conventional keylock nose. Got mine on sale, and they were a good value, but I prefer the BD Positron lockers.