Rocklock Screw Biner
Item Details
|
Reviews
(
5
)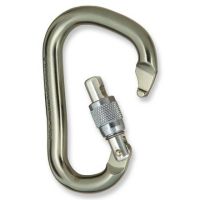 Description
This locker features a non-snaging keylock nose which wont hang up on bolts, gear or webbing. It boasts a 21mm gate clearance due to its slightly curved spine. This full service locker weighs in at 85 grams yet has a gate open strength of 8Kn and a closed gate strength of 24 Kn. Also available in an autolocker.
5 Reviews
my first locker
Review by: pacman529, 2010-07-06
meh. I've used it for a few weeks now and it's not bad, but the lock does not move very smoothly. I don't think I'd get another one.
Black Diamond Rocklock
Review by: yesitsdrew5310, 2006-12-20
I have the auto-locking one and the normal one, they are good if you want a large biner. A bit on the heavier side, so I would prefer the BD Mini Pearabiner over this.
Review
Review by: roseraie, 2006-08-20
My old Airlock developed some pretty impressive grooves, and they didn't have it available at the gear shop when I went in, so I bought a Rocklock.

I have to say, I'm pretty unhappy with it, for one HUGE reason: it crossloads, CONSTANTLY. I have to spend too much time while belaying watching the carabiner instead of my climber. It crossloads with a GriGri and with my ATC. I think it's the shape, the screwlock always gets caught on my belay loop. (I wear a Misty harness.)

Just warning potential buyers... as a belay biner, I'm pretty unhappy with it. I'll probably buy another Airlock soon, and make this thing into an anchoring 'biner.
Review
Review by: wrbill, 2005-05-05
The big reason that I went with the Rocklock was the price and that it was a keylock. The gate is smooth and has a good feel. But like omenbringer said, the locking sleeve is not as very smooth. But with that being the only draw back that is have found. I would say, if your looking for a large pearbiner, weather it be for big wall or your belay biner the BD Rocklock is a good buy.
Review
Review by: omenbringer, 2005-03-21
This is a great locking carabiner. It is priced substantially lower than the Petzl brand lockers yet has the same features. I purchased these carbiners to replace the BD Mini Pearbiners I have been using to secure my Wren Silent Partner to my harness. The minipears caught on everything making attaching the SP a real pain. I knew a keylock biner would help but didn't really want to spend $16.00 on the Petzl Attache for that feature alone. This is really where the BD Rocklock shines, it is equivalent to the Petzl William Locker yet sells for almost half the price. There are two reasons I didn't mark this krab a 5; first, the locking sleeve is adequite but not as smoothe or well done as the Petzl or DMM locking sleeves, and second, the Rocklock has a subtle curve which really seems to serve no purpose. Overall I would say this locker would suite any level of climber regardless of wether they climbed sport, trad, alpine or bigwall.