Sentinel Keylock Screwgate Carabiner
Item Details
|
Reviews
(
2
)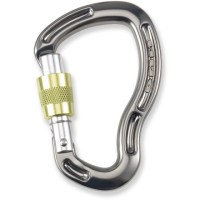 Manufacturer:
DMM



This item may be available at:
Description
At Last a really lightweight yet rope friendly belay biner. Once again the I beam construction comes into its own by allowing us to combine strength lightness and Function to give an easy to handle biner that offers great working space, with an excellent rope bearing radius. All in all the complete compact belay biner for those who are serious about the weight of their rack.[list] [*]Mini HMS shape ideal for belaying. [*]Excellent rope bearing radius. [*]Bottom end fits harness loops snugly. [*]Featherlight yet strong [*]Ideal Partner for the Bugette. [b][size=14][*]Major axis 24kN [*]Minor axis 7kN [*]Gate open 8kN [*]Weight 50g[/size][/b][/list]
2 Reviews
Great for a belay device.
Review by: AZrockclimber1988, 2007-04-27
It is a nice and light biner for belaying and rappelling.
Review
Review by: kinosoo, 2005-07-08
nice biner for your daisy chain I do a lot of root that top out in one pitch and normally I will top out set up a top rope on something different (harder) and then rap down I use one of these to lock in when building my anchor and one for my prussic when rappelling they never leave me. Light with a nice gate action. but a little pricey