Standard Screwgate
Item Details
|
Reviews
(
1
)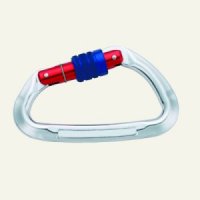 Manufacturer:
Mammut



This item may be available at:
Description
Major Axis: 24KN Minor Axis: 8 KN Open Gate: 8 KN 1.7 oz
1 Review
smallish
Review by: elnero, 2007-03-13
They are a bit on the smaller side, and lack a keylock nose. On the other hand, they're super cheap, pretty darn light, and the small is nice when you just need to add a bit more security to an anchor or something. But for anything involving a whole mess of slings, this kinda gets to be a pain, and I use small HMS biners like the attache or minipearbiner. All things considered however, cheap, light and small, pretty nice, just dont expect to be able to shove a whole bunch of stuff in there.