Truscrew Screwgate Carabiner
Item Details
|
Reviews
(
3
)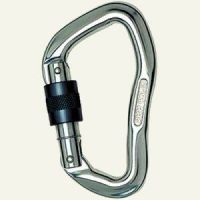 Manufacturer:
DMM



This item may be available at:
Description
Great locking biner 9 kN gate open strength 25 kn gate closed strength 7 kN minor axis strength 20mm gate opening 56g All this and an ergonomic shape that just melts into your hand. Great for protecting runouts the world over.
3 Reviews
Review
Review by: alleyehave, 2005-11-13
Awesome locking carabiner, light, very smooth twisting motion. Perfect size for setting up a simple anchor, 2-3 of these and your set. THe gate opening is limited however; like I said, its perfect for simple anchors not latching onto a log :)
Review
Review by: kpb, 2005-06-18
I'm a beginner, but I have a few different locking carabiners. I really like the fit and finish of this 'biner. Small, yes, but they are versitile and affordable.
Review
Review by: omenbringer, 2004-05-28
A good lightweight locking carabiner which may be better suited to protecting runouts than anchor work. The carabiner has a nice feel but is on the smallish side making it less than ideal for stuffing lots of webbing. The screwgate is nice and smooth, however, the gate spring itself is rather strong making it a little more difficult to open. Although the Tru screw is a fine locking carabiner, there are other lockers in this weight class which are more versitle.