Ultra Tech Screwgate Locking Carabiner
Item Details
|
Reviews
(
2
)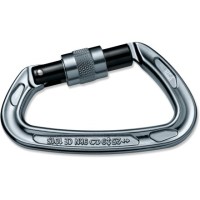 Manufacturer:
Mad Rock



Available now at:
Description
With a keylock nose, a smooth locking action and a price that cant be beat, the Mad Rock Ultra Tech screwgate carabiner is a clear winner. Manual screwgate locking method has a smooth action that makes this biner extremely versatile and easy to use in all conditions. Keylock nose design will not snag on bolts or gear.
2 Reviews
Super cheap compared to others
Review by: sevs, 2010-02-21
It has a great size and weight, I can't notice a difference between this and the BDs we normally use except that the gate on them feels a little sticky when first pushing on it. The best thing was I got 4 for them for $7 each. That is like buy 2 get 2 free over the name brand prices. To me once they get a little banged up and scratched they will easily become leave behind biners without much heart ache. I will use then and not really worry if my partner doesn't treat them with the care of his precious petzl lockers.
Subject?
Review by: rockofglove, 2009-09-15
Ok, so the main reason I'm giving this a 5 is because of the price, it's unbeatable for a small locking carabiner. It's pretty standard every other which way, keylock nose, nice shape, the screwgate feels a little flimsy like every other aluminum biner. Just as good as any other biner in its class, but a big $$$$ saver if need a bunch of small screw lockers.