William Ball Lock
Item Details
|
Reviews
(
3
)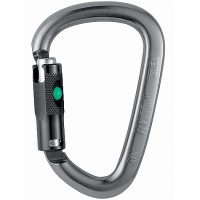 Manufacturer:
Petzl



This item may be available at:
Description
Well suited for use in belaying and organization of the work position. - Large size to allow anchoring of several ropes. - Wide opening to allow clipping of large diameter bars. - Pear shape is particularly suited to belaying; facilitates the reversal of an Italian (Munter) hitch - easy to operate, even with gloves. - Keylock system: snag-free body / gate interface, avoids accidental snagging of the carabiner onto the anchor, the rope, the harness Technical specifications : Strength: 25 kN long axis, 7 kN gate open, 7 kN short axis. Opening: 24 mm gate opening width Individually tested. Weight : 88 g.
3 Reviews
Review
Review by: niftydog, 2005-02-22
is there a better munter hitch krab out there?!

Perhaps a little large for my hands, but I have no problem with the ball mechanisim itself.

Call me strange, but this is one sexy krab...
Review
Review by: scubasnyder, 2004-11-24
This is a great belay biner, the only problem is when the biner starts to get some dirt under plastic part it starts to get stuck and hard to work(only have the plastic gate one)
Review
Review by: tisar, 2004-10-13
Ever had an HMS unscrewed by the rope while belaying? As I still use the munter there's no way around getting an autolocker. I hit the William and it was the best choice I could have made. After a little training you'll clip/unclip onehanded in no time. No way to get caught under load. No fiddle with up-down-turn. No more tangled up munter hitches. Keylock as a bonus. - It wasn't a "5" cause I'm somewhat sceptic that the plastic around the locking mechanism is as good as metal when it comes to use in an anchor/rubbing against rock.