William Screwgate Carabiner
Item Details
|
Reviews
(
14
)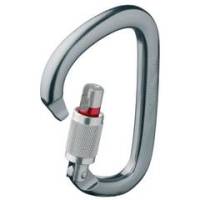 Manufacturer:
Petzl



This item may be available at:
Description
Pear-shaped carabiner with large opening, Suited for organizing at belays and belaying with a Munter hitch, Large size to allow anchoring of several ropes and slings, Large opening, Wide pear shape facilitates belaying with a Munter hitch on single or double ropes, Keylock System snag-free body / gate interface.
14 Reviews

Write your own Review


Read all 14 reviews
Great Big Biner
Review by: rockofglove, 2009-09-15
As a large offset D carabiner, this this is awesome. Nice shape, fits a grigri, has a lot of friction with an atc, slightly stronger than average Kn compared to other large aluminum biners. I like Petzl's "red dead" line on the screwgate. Massive gate opening, just as big as the OP Jake, without having to open slightly to the side. If you want a big locker with lots of area to work with inside, this is the one.
Petzl Carabiner
Review by: MichaelCohen, 2009-03-17
It is a pretty average carabiner. I ten to lean towards the Black Diamond Quicksilver carabiners because of the colorful look and somewhat smaller size. If you need a carabiner as soon as possible, go for it. Otherwise, look around a bit and see if you can find anything else that catches your eye. Definitely not a bad carabiner though. It does what it's supposed to.
Absolutely love this locker
Review by: asellers98, 2008-09-17
I bought the screwgate, and It is just perfect for so many tasks.
Petzl William Carabiner
Review by: bobby-rock, 2007-10-07
I found this type of carabiner better than other ones, having a smooth screw is one of its advantages.
Review
Review by: blake_wrinn, 2006-06-11
a monsterous gate opening! plus a safety red line that shows when the gate isn't locked. A great safety feature!