Previous
Zodiac 11mm Screwgate Carabiner
Item Details
|
Reviews
(
3
)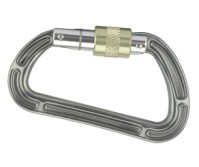 Manufacturer:
DMM



This item may be available at:
Description
The Lynx range has been at the centre of the DMM Range for many years now, and it was difficult to see how they could be improved on as a stock item. Well they have To fall in line with the latest developments they too have an I beam back, giving them an ultra modern look and shedding a massive 15 grams off their respective weights.
3 Reviews
Great anchoring biner.
Review by: AZrockclimber1988, 2007-04-27
It is a great biner for personal anchors, multipitch anchors and, for setting up those topropes.
Love this biner.
Review by: tradrenn, 2007-03-18
Pretty sweet light biner. I bought 4 of them to be used on my anchors and to shave off waight of my anchor set up. Works very well. Now after one year I have 12 of them.
Review
Review by: ghostguy6, 2006-07-28
Great biner! Suprizingly light for its strenght and the large gate opening makes it great for any application. Screw gate action is very smooth even after cleaning with soapy water. Great biner for a bigginer all the way to the experianced pro looking for a light, strong biner.