Pacific ISO Cold Forged Five-O Bent Gate Carabiner
Item Details
|
Reviews
(
2
)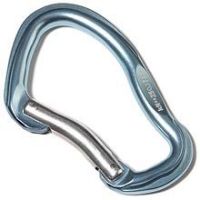 Description
Five generations of development have perfected this carabiner. Huge gate clearances with deep baskets provide effortless clipping. Available in straight, bent, wire and locking gates for virtually any use. Built from aircraft-quality aluminum and our exclusive ISO Cold Forged process, the Five-O is the premier free-climbing carabiner. Perfect for alpine, ice, and sport climbing, the Five-O boasts up to 32mm of gate clearance.
2 Reviews
Review
Review by: blake_wrinn, 2006-06-10
every time i pull out a cam or hex during a crux with this biner on it, i'm relieved. this is my favorite bent gate on my rack and on the market. huge gate opening and very easy clipping. a bit pricy... but worth it.
Review
Review by: dr_fil_good, 2005-10-12
These are my favourite of my bent gate binas - just 'cause they are so handy when double roping or when on overhanging terrain and you need a massive bucket to clip your rope into and still have finger space if you are clipping gumby