Quicksilver Carabiner - Bent
Item Details
|
Reviews
(
3
)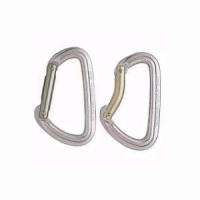 Description
Gloriously strong and suited to any use, the legendary Anodized Quicksilver proudly displays its divots from being tested to 12 kN. Every Black Diamond carabiner is pull-tested to half its rated strength before it leaves the manufacturing floor. Considered a classic in terms of function and design elegance, the Quicksilver has now added value to the formula. This closed-back carabiner has a streamlined body and an angled nose for easy clipping, and a wide rope-bearing surface that allows rope to travel smoothly through the biners. A high strength rating and relatively low weight top it off, making the Quicksilver irresistible to the value-conscious climber. -Vendor 25mm bent Strength Closed - 25 kN 5620 lbf Strength Open - 9 kN 2023 lbf Strength Minor Axis - 7kN 1574 lbf Weight 176 oz 50g
3 Reviews
Review
Review by: stuthetraveler, 2010-06-29
Love the bent gate biners. I can feel a huge difference when clipping into a rope or even a gear loop on my harness. The bent gate design makes clipping in a natural motion.
Review
Review by: mgoodro, 2005-04-27
Excellent biner for the price. I bought these because they were the cheapest, but I've been very happy with them. The action is very smooth and the weight isn't bad. I swapped them out for the wiregates on one side of all my lightweight Trango draws.
Review
Review by: sarcat, 2004-05-17
Just like I put in for the straight gate these are on all my draws. love them and contiune to buy them for where ever clipping is going to happen.

I've tried some of the newer biners for clipping and will admit SOME of the newer are more smooth. But for cost and uniformity I still get these.