Spider Carabiner
Item Details
|
Reviews
(
2
)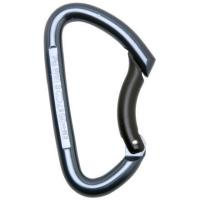 Manufacturer:
Simond



This item may be available at:
Description
Simonds unique keylock gate makes the Spider Carabiner incredibly easy to clip no matter how desperate the situation. The inside of the gate has no notches to snag a rope, so you can yank some line, snap it in, and continue on your way to a send. The Spider Carabiner comes in both straight- and bent-gate models for use in everything from sport climbs to trad climbs to big wall odysseys.
2 Reviews
Perfect for bolt end
Review by: sea2peak, 2008-03-29
This is my favorite carabiner for clipping bolts due to the notchless and round nose. The uniform 10mm rod stock means this biner takes up less space in the hanger, as compared to a shaped ("T" cross-section) biner like the Petzl Spirit. Another benefit of the round cross section is less rope drag, especially noticeable when using these as your anchor/top-roping biners. The gate spring tension is just perfect for my tastes, which means slightly stronger than average. In my opinion the only drawback of this biner is its weight, which is about the same as a Petzl Spirit, or significantly more than the new "I-Beam" type biners out there. Again, on draws I prefer this biner for the bolt end, with a lighter weight biner on the rope end.
Simond Spider carabiners
Review by: shimanilami, 2006-11-17
Works of art.