Superfly Bent Gate Carabiner
Item Details
|
Reviews
(
1
)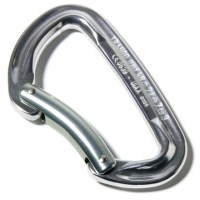 Manufacturer:
Trango



This item may be available at:
Description
SuperFly is the lightest full-size carabiner in the world. Weighing in at just under 37 gm for the Bent and Straight Gate versions, a quickdraw using these and one of our UltraTape slings is the same weight as an oval carabiner! We've used the latest in hot forging technology to design a super-strong carabiner that retains the rope friendly bearing surfaces and the familiar handling characteristics of what you're used to. - Strength major axis open - 9 kN - Strength major axis closed - 24 kN - Strength Cross Loaded - 7 kN - Gate open clearance - 22 mm
1 Review
review
Review by: teknikal, 2007-09-11
I bought these for a climbing trip along with an equal number of the straight-gate ones a year and a half ago, and they have performed great! Honestly, after that trip I haven't climbed on them much for several reasons (going to school full time, working more than full time, and living in Kansas are the best ones), but they have been outstanding when I have used them! As far as I know, they have only taken a couple short falls, but they clip super easy and they weigh next to nothing. For the last year or so they have been aging in my closet, but I'm just itching to take them out and put them to use again!