Oval Carabiner
Item Details
|
Reviews
(
22
)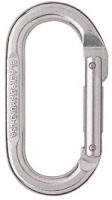 Description
Black Diamond Oval Carabiner Fall 2009 The Oval Carabiner by Black Diamond is our tried-and-true classic. Symmetrical design resists etrier shift on big walls and is ideal for reversed-gate biner pairing. Good for use as a carabiner brake and for racking nuts and iron.Features:Weight: 62 g 2.2 ozStrength:Closed Gate: 18 kN 4046 lbfOpen Gate: 6 kN 1349 lbfMinor Axis: 7 kN 1574 lbf
22 Reviews

Write your own Review


Read all 22 reviews
oval carabiner
Review by: redcannon31, 2010-05-11
I buy a lot of ovals. I find they are the best at racking gear and the fact that they are cheap is the best thing about them. I am told they can be hard to use in some situations but i have yet to have one of those moments. Will buy more of them tell they stop working for me.
Oval!
Review by: MichaelCohen, 2009-03-17
No matter what you're doing, you always need some extra ovals. These are cheap, strong, durable, you name it.
work-horse
Review by: gaalsent, 2008-07-10
My first biner, and still buying new ones. I climb mostly trad, and find these versatile and durable. Sure they weigh more than the new stuff, but they have a decent kn and can be used for a variety of anchors and rope movements. i dont mind the old design or how other newer biners are "easier" to clip - this guy is tried and true.
cheap
Review by: elnero, 2007-04-17
not sure what you can say bad about these.. the weight is just about it. I use these to rack my wired pro, I've had some problems racking wired pro on wiregates, it seems they like to try and escape. It's also nice to have 4 of these to use the biner brake to rap if you drop your belay device. oh, and theyre stupid cheap.
Review
Review by: blake_wrinn, 2006-06-10
Classic, durable, strong! buy them by the box!