Element Straight Gate Key Lock Carabiner
Item Details
|
Reviews
(
1
)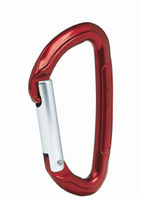 Manufacturer:
Mammut



This item may be available at:
Description
The Element Key Lock Biner by Mammut is a straight gate biner built to be durable and great for all types of climbing. The key lock nose is crucial when trying to avoid snags, tangles or accidental openings as it has no hook on the nose. Great for racking gear or putting on the top of your draw for the clipping biner. Easy and snag free.
1 Review
Pretty solid all around
Review by: duncanlennon, 2008-12-13
This is a biner in the same vein as the Spirit or Positron. Strong, reasonably light, keylock, and cheap. The price is really the main reason to look at this biner; it is in no way better than the above mentioned keylocks and in terms of gate action is slightly worse. Overall pretty good, and you can't beat the price. Looks nice in red too.