Light D Carabiner
Item Details
|
Reviews
(
6
)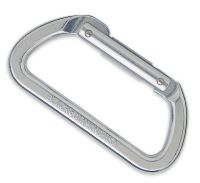 Description
The classic Light D is still a great free-climbing biner: itís light, strong, stable and symmetrical. Its D-shape transmits a majority of force to the strongest part of itóthe spine. The Light Dís low-profile nose can wriggle its way through the small eyes of old bolt hangers and fixed pins.
Weight: 50 g (1.8 oz) Strength: Closed Gate: 24 kN (5395 lbf) Open Gate: 7 kN (1574 lbf) Minor Axis: 7 kN (1574 lbf)
Proven design in a utility biner
Low-volume nose fits old pins and hangers
D-shape transmits most force to its spine
6 Reviews

Write your own Review


Read all 6 reviews
BD lite D
Review by: gb3985, 2007-05-25
I picked up a hand full of these at REI cause they were on sale.They are lite,have a smooth action but I feel like they are hard to clip.The gate opening is a little small.Great for trad.
Review
Review by: ctardi, 2005-10-11
Great to have around, nice gate action, cheap, get's the job done.
Review
Review by: coylec, 2004-06-13
The standard for light d biners. For general biners, you can't beat them, but for specific applications, you can always find a better biner. Twisted relationship: i'll always have a handful just in case (cause they'll work for anything), but they're not the biner of choice in any situation.
Review
Review by: theakeidah, 2004-06-03
My first rack had lots of draws with the Light D. Thing I like about them is that they were relatively cheap. Now I use them when I have to leave one behind.
Review
Review by: scubasnyder, 2004-05-12
These biners are somewhat old stype but still work good, but there are many other biners i would prefer over this one, but these do work pretty well with trad gear.