Positron Straight Anodized Carabiner
Item Details
|
Reviews
(
11
)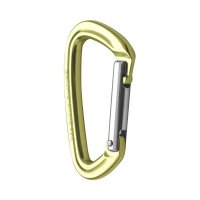 Description
Round keylock gate that's easy to clip and remove. The versatile keylock feature on the Positron eliminates the nose getting caught on the hanger if a clip is just barely in reach. This non-snagging biner is also excellen for racking wired pro. A proven performer that is strong, durable, and easy to use. Weight (Straight & Bent): 49 G (1.7 oz) Color: Bronze, Cinnamon, Coal or Sage Strength: Closed Gate: 25 kN (5620 lbf) Open Gate: 8 kN (1798 lbf) Minor Axis: 8 kN (1798 lbf)
11 Reviews

Write your own Review


Read all 11 reviews
Positron
Review by: duncanlennon, 2008-07-15
I use these to rack wired nuts, some cams, and spare slings. The keylock is a great feature. The biners are large and have a wide gate opening, which is especially good for getting nuts and slings off. The gate isn't very stiff. Comparable to the new Mammut Element keylocks.
luv em
Review by: moose_droppings, 2007-02-27
I use one on each of my cams hangin off my gear sling. Last thing I want when I'm pumped and grabbing gear is to wrestle with the notch on the gate hangin up on my sling. I don't like them for racking wired gear, kinda like the notched biner then so more than the one I'm grabbing doesn't slide off.
Stellar
Review by: hornboy101, 2007-02-25
Stellar. I use them on my trad draws (on the gear side) Opposite a neutrino wire, great set up. And with a colour like that, you can allways find the trad draws on the harness. Hazah!
just about perfect
Review by: elnero, 2007-02-24
Can't thing of anything wrong with this thing. Does its job quite well, pretty lightweight, not too expensive as far as things go. I use em on the gear or bolt end of my draws and slings. The keylock nose doesnt get caught on the bolt, cam slings or nut wires when cleaning, very nice.
Review
Review by: mgoodro, 2005-06-22
This is the only key-lock biner I've used so I can't compare it to the Dynotron or Spirit on anything but price (cheaper!). I picked up a my first five to use with wired pro, previously I was using Trango lightweight and BD wiregate Ds. The smooth gate and no-snag opening are worth the (slight) extra weight. I would prefer an oval for racking, but the advantages of the key-lock make up for the smaller basket and corner-pocket design of a D. The narrow profile is also a plus. I will definately be adding more of these to my rack for both pro and draws.