Quicksilver2 Straight Gate Biner
Item Details
|
Reviews
(
2
)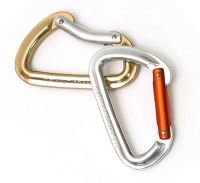 Description
The Quicksilver2 straight-gate biners are a serious blend of durability and function. An angled nose offers easy clipping on both bent and straight-gates and a wide rope-bearing surface allows ropes to travel smoothly through it. Strong and light, Quicksilver2 are streamlined perfectly sized for optimal use in all kinds of climbing.
Weight: 50 G (1.8 oz) Colors: Bronze, Cinnamon, Coal and Sage (sold assorted) Strength: Closed Gate: 25 kN (5620 lbf) Open Gate: 9 kN (2023 lbf) Minor Axis: 7 kN (1574 lbf)
A durable and functional workhorse in the field
Easy to clip due to angle nose, larger size and streamlined feel
Offers excellent versatility and lightweight
2 Reviews
Review
Review by: onbelay510, 2005-01-03
A workhorse with a smooth gate. Just fine for me.
Review
Review by: sarcat, 2004-05-17
When I built all my draws 8 years ago the top biner was the BD Quicksilver II straight gates. I still love them and contiune to buy them for all my no-locking needs. Cost is usually good. I just purchase 10 for $48 of a site.