Smooth Straight Gate Keylock
Item Details
|
Reviews
(
1
)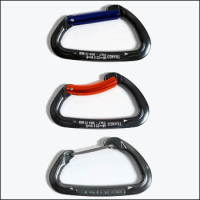 Manufacturer:
Trango



This item may be available at:
Description
Trango Smooth Straight Gate Spring 2009 Smooth Straight Gate by TrangoSpecifications:Weight: 40gmMajor: 23Strength Minor: 8Open: 8
1 Review
Trango Smooth Straight Gate Keylock
Review by: lewismonkey, 2008-09-03
Staight gate version:
These are fantastic! At only 40g they are seriously light for a straight gate key lock. But they still feel very solid and reasuring. The gate action is super smooth and they feel nice in the hand. These are the nicest (and lightest) regular straight gate key lock biner I have used, superior to the new Camp ones and significantly lighter than the old petzl and BD biners.
If you are after an old school biner for the bolt end of your quickdraws, I highly recommend these. The only downside I can see is that the gate has no texture on it, but this is not a major concern.