Superfly Straight Carabiner
Item Details
|
Reviews
(
2
)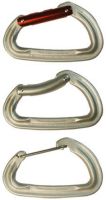 Manufacturer:
Trango



This item may be available at:
Description
Trango Superfly Straight Carabiner Spring 2009 SuperFly is the lightest full-size carabiner in the world. Weighing in at just under 30 gm for the Wire Gate and 37 gm for the Bent and Straight Gate versions, a quickdraw using these and one of our UltraTape slings is the same weight as an oval carabiner Weve used the latest in hot forging technology to design a super-strong carabiner that retains the rope friendly bearing surfaces and the familiar handling characteristics of what youre used to. Specifications: 37 gm Major: 24 Strength Minor: 7 Cross: 9
2 Reviews
Super-Fly
Review by: joshy8200, 2007-03-15
The weight savings of these carabiners is totally worth paying more for if you're an experienced climber. I like that they have a very snappy gate action. The previous poster mentioned cross-loading being a problem...I have not noticed this at all. I haven't had any problems with the nose catching either.
Review
Review by: griffin, 2006-09-02
I have a bunch of these I use with tripled sling draws. They're quite light, which is nice, but also that means that they jangle around with the rope movement, sometimes crossloading them. The notch is pretty deep, which also catches thin dyneema slings. The gate action is a little on the stiff side, but the gate is large enough for winter use. The weight savings are great. I rack my cams with 'em as well. For the price I'd say they're great for shaving weight, as long as you know the limitations of them.